Today's sponsored post is brought to you by Womple Studios and contains affiliate links.
All through my childhood, I wrote to pen pals all over the world. As a Millennial, I'm in the unique position of being old enough to remember when "Snail mail" was the main form of long-distance communication, but young enough to now be connected to those same childhood pen pals through social media as an adult! Last year, I saw my first ever pen pal in person for the first time in 20 years. I'll never forget how much I looked forward to getting the mail every day as a child, and how much I enjoyed writing and receiving letters and fun little items like stickers, cards, and trinkets from all over; it was a very enriching experience to learn about different people and places through my pals.
While the Internet has made it easier than ever to connect to people around the world, the old school pen pal experience is pretty much gone – or at least, I thought that was the case until I was introduced to WompleMail.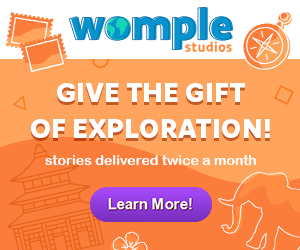 WompleMail has brought the fun of a pen pal to today's generation with their adorable subscription box just for kids. This charming service allows your child to become pen pals with a "Womple" – a Yeti-like creature from Antarctica that has been frozen for millennia. Womples have missed out on a lot of fun being frozen for so long, so now they've become world travelers, and are looking for new friends to send letters and postcards to from each destination. Each month, children receive a postcard from a new destination, along with two packages filled with their Womple's travel tales along with fold-out maps, activities and stickers.
I received my own Womple Explorer Box in the mail, and felt immediate nostalgia! I was so excited to share something special from my own childhood with the next generation. I also happened to know the perfect pen pal to introduce my new Womple acquaintance to, so I took the WompleMail package along with me on a visit to my cousin for us to surprise her young son with. He's a thoughtful boy who loves getting mail, which is a rare commodity in today's digital world! I knew he would be the perfect recipient for WompleMail since he just celebrated his 6th birthday and started first grade – WompleMail is crafted with kids roughly 5-10 years old in mind.
Upon opening the box, our young explorer met his new Yeti friend, named Roald, and instantly gave him a huge hug.
All of the items were so cute – we noted what a nice touch it was that the components were individually wrapped, because he had so much fun opening each one. Upon unwrapping the crayons, he held them up and beamed, "Two BIG crayons!!" The pure excitement of a child is so much fun to watch!
Because the whole family shares a love of travel, it was a really fun activity for everyone to share. His parents noticed that the package actually happened to include stickers from locations around the world where the family had visited when their son was smaller, so it was neat to point that out and remind him of those trips he went on. One of the destinations noted was Belize, where by coincidence, his parents are going on vacation later this month! I couldn't have asked for better timing – what better way to involve kids in an upcoming trip than to have these activities on hand that can be related to real-life experiences? WompleMail generated a lot of conversation, from reminding us of our own travel experiences to learning about new destinations. And although the younger siblings aren't quite in the age range for WompleMail, they still were excited to see what was in the box, play with the crayons and paper, and of course, hug Roald!
WompleMail focuses on unique destinations and experiences that you won't necessarily learn about in school, so kids and parents alike can learn new things about fascinating places. It's a really sweet activity that parents and children can share, and I was so impressed by how cute and engaging the contents were – this little boy lit up as soon as he opened his Womple Explorer Box, and was so excited to look at all the different treasures. His enthusiasm was contagious!
A WompleMail subscription is $23.99 per month, and if you prepay for 12 months, you receive the Womple Explorer Box as well. For the same price as a streaming subscription, you can receive tactile, tangible items in the mail that will capture your child's interest and educate them in the process. It's a delightful gift, especially as the weather gets worse and kids are stuck indoors! To learn more and download some fun free activities, visit WompleStudios.com and be sure to follow #Womple on Facebook, Instagram and YouTube to see where Womple ends up next!