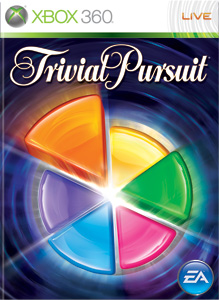 My husband and I spend time together by playing games. In fact right now we're playing Scrabble which is also a new title from EA Games and Hasbro. We play it on the Xbox 360 and it is only available as a download. It is part of Hasbro's Family Fun Night. Which is not completely complete for the Xbox yet.
We also have Family Fun night for the Wii.  Love playing boggle. EA seems to know what they are doing when it comes to making Hasbro's board games turn into video games. Our only issue is Hasbro or EA charging 10.00 to play Connect Four on the Xbox 360. Good Luck selling that one. We're waiting for the price to come down, because we can already play it on the Wii. 😉
We now have the opportunity to play Trivial Pursuit for Xbox 360. It's a lot of fun to play against my husband. You know when you play Trivial Pursuit as a board game and the game can take forever because it's so hard. Well, this one is still hard but it has a game play
option that is guaranteed to take around 20 minutes. This is the option we have been playing the most. In this mode you can choose to land on a special piece. That special piece will have a wheel that you spin and you can get the option to wager against your opponent, you have the chance to steal their pie, or you can teleport to any
space on the board. My husband has been having all the luck because he keeps stealing my pies. I think he has won ever time we play. Oh and we downloaded a bonus pack where we could play just movie trivia. I do much better at movie trivia.
Clear the Board is a single mode. It's a fun way to test your own knowledge. Each square you land on can only be answered once, and it gets marked off whether you get it right or wrong. If you get it right you'll earn more incrementally towards your pie. The board will shrink as you earn the pies for a certain color because the color/category is no longer available.
Trivial Pursuit has a lot of features like how you are doing, how many answers you are getting right vs. how many you are getting wrong.The percentage of Sports & Leisure questions you answered, number of correct responses in a row, etc.
Well, my geeky self and my geeky husband love to spend time together. We are either sitting side by side on our dueling computers or we are playing video games together. He loves talking about me at work because I speak computer language and I play video games. Some of the guys he works with ask him to stay late and play video games with them, but he says no, I'm going home to play games with my wife.
One last thing, I've been trying to work into this post. I know that EA is famous for The Sims. We love to play The Sims too. My husband used to make outfits for the Sims. He made Star Trek Next Generation characters and Wraith from Stargate Atlantis, oh and Stargate SG-1 uniforms. I love my Geeky man. 😉