This is our first family vacation and I'm pooped. I was invited to visit the EA studios near San Francisco and Maxis studios for the release of Spore Hero on the Wii. The invitation included one child and I asked if my husband could tag along and have one lap child. They deliberated and said yes. So it was a family vacation for us. One final summer hurrah and what a crazy adventure it was.
I had just gotten back from Texas so I felt that if I could travel alone with two children certainly it would be easier to travel with an extra adult right?
HMMMM?
It wasn't that bad, but after spending a month with Grandma and Grandpa my kids were spoiled rotten. So anytime they didn't get exactly what they wanted at exactly the right time they would scream or attempt at a tantrum. I was grateful though that they still see daddy as authority; mine has diminished but I plan to spend the next month getting it back.
We were all a bit grumpy the hotel wasn't very nice, the ac did not work and the bed was uncomfortable. I can't sleep when I'm hot so I was grumpy, my husband was in a better mood than I was and my kids were, well they were one and two. I can't expect too much. I have good kids I really do but they were hard to deal with. I mean, my arms were tired of carrying them but they have little feet and walking around San Fran was hard for them so my husband and I did a lot of carrying.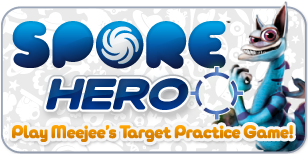 The good thing was seeing my sister in law and going to the Maxis Studio and the EA studio. Both companies were wonderful and shared lots of goodies with us. I plan on sharing some of those with you guys over the coming month. Look out for a Sims 3 giveaway, Spore giveaway, and Harry Potter DS giveaway. We also had fun shopping in their company store. My husband was in awe because their prices were cheaper than the Microsoft company store.
Suggestions to other parents traveling with two:
1. Don't leave without a stroller for both children, umbrella or car seat/stroller combo
2. Wear your seat belts while riding in shuttles, I almost flew out of my seat but thanks to my seatbelt I didn't slam into the door.
3. Have one parent for every child under the age of three.
4. Take toys to every location you go.
5. Take a spare set of clothing for each child.
6. Be prepared for diaper blowouts.
7. Have spare snacks
8. Blow up beds for kids or a pack'n'play for baby
9. Be prepared for heat/cold or rain
10. Have chocolate for all occasions. It's great to give to disgruntled plane occupants, high stressed mothers and last resorts for children.
11. Remember to breathe and de-stress.