This post includes affiliate links.
We have just started working with a Obersee a new company for us. They have some fantastic travel bags and suitcases and kids' backpacks. And my son loves backpacks.
He has like three of them and wants a new one when back to school season starts. I'm not ready to think about getting him a new backpack but when I am I will be sure to check out Obersee.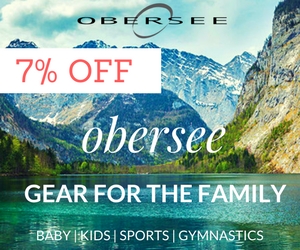 About Obersee Kid's Pre-school Back Packs:
Ideal for kids ages 3 to 7 years
Insulated front pocket stores lunches and snacks
Side pocket holds water bottle or thermos
Chest strap keeps should straps in place
Dimensions: 14.5″L x 10″W x 5.5″D
Compartment holds 8-1/2 by 11-inch folders
About Obersee Paris Sparkle Backpack
The Obersee Paris Sparkle Backpack is a spacious and robust backpack featuring show-stopping sparkling glitter material. You will love carrying this comfortable backpack that easily fits everything you need for school, work, sports, or day trips. The backpack features two roomy side drink pockets, and two easy to access zipper pockets on the front of the pack. The Paris backpack features two main compartments. The front compartment features a key clip and organizer section, and the back pocket features a laptop pouch that will accomodate most 15 inch laptop computers. The back and straps are padded with breathable mesh padding, and the straps are easily adjustable. The top features a carry handle and a loop for attaching small items. The backpack measures 7 in x 18 in x 12 in (18 cm x 46 cm x 31 cm)
These are just two of the types of kids travel bags they have. Other kids backpacks include backpack with lunchbox, a toddler backpack and lots of different luggage for kids. These bags are great to have your kids use to travel. Whenever we go somewhere as a family I have my kids load up backpacks. Depending on what type of activity we are doing, riding a plane or taking a road trip they always load up their own travel bags.
We also have a coupon code for you.
Get 7% Off on All Orders at Obersee.com. Click Here Now.