Last year Barnes and Noble introduced The Nook. I've been using the Kindle 2 until my husband took it away from me because his broke. (ok, he didn't take it, I gave it to him because he has trouble falling asleep and reading helps him.) We switched to a digital reader because my husband goes through books like the wind blows and he doesn't like the library. He's a little weird, so overall, it's cheaper for us to use a digital reader. It's also a lot easier because when he unexpectedly can't go to bed one night he can just purchase a new book and it is instantly there.
Opening the Box: I found the packaging easy to open and sharp!
The Nook is an ebook reader that allows you to read your books no matter where you are. That is an advantage over the Amazon Kindle. The Kindle does not share except with other Kindles within the same account. So my husband and I do share books, but with the Nook, I can share my books with anyone anywhere. If you have an iPhone/iPod, soon to be iPad, BlackBerry, and your computers, you can swap books from the nook.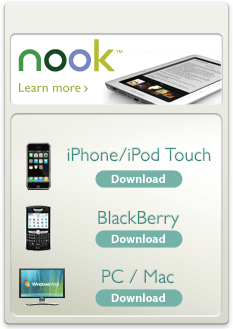 Another advantage is the color touch screen that is just below the reading area. At first I thought the reading area was smaller but it is the same size. The touch screen is quite nice and easy for me to use. You can view by cover art. My husband said I need to warn you that not all book covers that come up are suitable for kids to look at. He probably was looking at Sci Fi books just to let you know.
The combination of color and touch on the beautiful lower screen make navigating nook intuitive and simple, even for the tech novice. nook presents the controls, navigation and keyboard you need, only  when you need them.
Another advantage is you can change the screen saver and choose some very fun ones to look at. They have an Alice and Wonderland that look really cool. I'm just sad that I have to download it onto my computer then over to the nook, but they might work on changing that option. We'll just have to wait and see.
It is very light and portable
My only complaint would be that the Nook is slow compared the Kindle. Directly downloading a book that we were trying to purchase took a little more time than we liked, but it's still so much faster than going out to the store, esp since stores aren't open when we are looking at getting a new book.
Enter to win a Barnes and Noble Nook. They are valued at 250.00
To Enter:
Tell me what will be the first book you download to read when you win.
Extra Entries:
Tweet:
#Win a Barnes and Noble Nook ebook reader http://bit.ly/aLiTSc @momstart @nookBN @ebooksBN #giveaway #contest #nook
Follow me on twitter tell me your twitter ID
Advertise this giveaway on any giveaway site, blog, or facebook and tell me where you advertised it (include link to giveaway). 5 Extra Entries for each one you do
Subscribe to my blog
Comment on any other non-giveaway post
Use any of the share options below, digg, stumble…2 entries each
The contest will run until March 24th 11:59 pm Pacific. All rules can be found under giveaway rules.