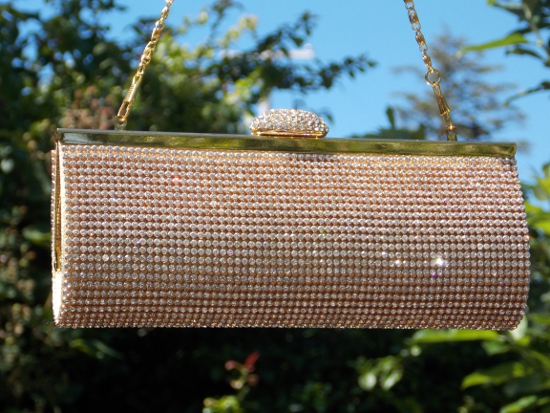 Complimentary clutch was received for review.
As we dive headfirst into August, parents are already planning for back-to-school and the Fall season that will soon be upon us. It might be sunny outside, but the holidays will be here in a blink of an eye! Every year, I swear I'm going to get a headstart on picking out gifts and supplies for the Christmas season so I can avoid that last-minute scramble. I feel like I've done pretty well so far this year – I've even been introduced to a line of handbags that would be perfect for holiday parties!
LightintheBox.com is an online retailer that caters to the global market, shipping to almost any country. They offer all kinds of items for the home as well as beauty and fashion products – I had a chance to browse some of their elegant evening purses, and I immediately knew which one I wanted: The Unique Polyester with Crystals Evening Handbag, which retails for $49.99. This clutch really appealed to my taste! I love everything glitzy and glam. My favorite jewelry pieces are all heavy on the rhinestones, so it's no wonder I like the styling on this. Talk about glamorous to the max!
This clutch is just the right size for carrying small items like your phone and makeup, with one small pocket inside; probably best for business cards at a cocktail party, since it's very flat pocket that doesn't open very far. It comes with two removable straps: One is long enough to wear on your shoulder and the other is shorter and perfect for carrying by hand. I had a bit of a hard time opening the top clasp – I can't speak to how durable the clutch is, but it looks more fragile than your average purse to me from the way it's constructed and decorated. My favorite thing about this bag is that it is so, so pretty! If there were a larger version of this bag, I would totally carry it as my daily purse so I could be stylish to the max during my errands!
If you're looking for a sparkly bag to carry to all those Christmas parties that will be here before we know it, you can check out the handbag selection at LightInTheBox.com by clicking here!