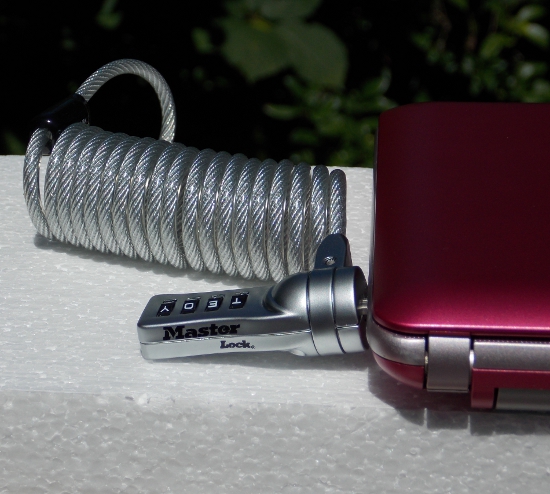 Complimentary Laptop Lock was received for review purposes.
Do you know any kids who have had their belongings stolen at school? I do, unfortunately. It's awful when a young person gets an expensive item swiped – and with things like laptops that contain crucial data like essays and assignments, being the victim of theft can be even more devastating. If your or someone you know will be using a portable computer in a shared space this Fall and are nervous about it, then you might be interested in a SafeSpace Laptop Lock from Master Lock. This unique product is made to work with laptops and netbooks with a lock slot, and is essentially a bike lock for your computer – you wind the cord around something secure, then insert it into the lock slot. You then turn the combination dial to set the lock so that your laptop is tethered. The lock uses a word combination, so you can select a four-letter phrase to unlock the laptop.
I could see this being useful for everything from school to blogging conferences. I don't think there is any perfect theft deterrent, but I could see this bringing some extra peace of mind during those times when you might have your attention called away or back turned for a moment and are worried about grab-and-go thievery. The product retails for $19.99 with free shipping, so it's not a big investment to keep your laptop that much more secured!
Master Campus Challenge Giveaway
Want to test your college security savvy? Visit Master Lock's Master Campus Challenge and play the game to earn entries into a sweepstakes with prizes like gift cards, clothes, and a home entertainment center! The entry period runs through September 8th, 2013 and is open to US & Canadian entrants – some restrictions apply, so check the official rules before you begin. Good luck!