The 80's are back!
I was a child of the 80's and loved the music that I grew up with. My birthday was 1980 (don't go calculating my age now) and my mother listened to all of the current music. I can still remember driving in the car with her and listening to different songs, like Walk like and Egyptian and Material Girl.
Juice Box Heroes has taken songs that parents will remember (mostly from the 80s) and re-written the lyrics for kids! They have received a lot of great local press (newspapers, TV) and were recently featured in Daily Candy, LilSugar and won Dr. Toy's "Best Picks/New Products" award. Their CD is called No Sugar Added.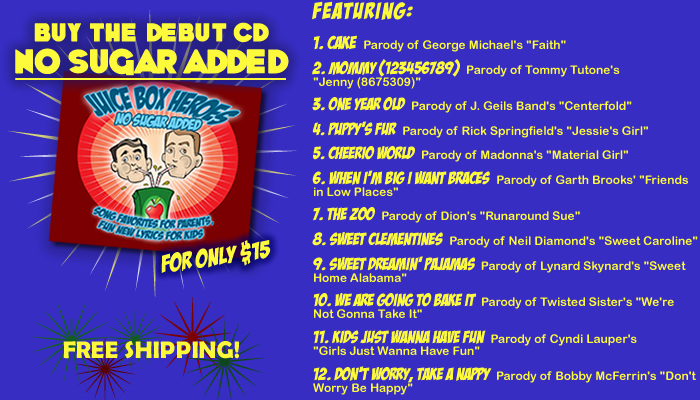 I gotta have cake, mmm. Oh what i kid would do to get some cake. it's good because it sings about kids needing to eat all the good stuff before mom will give them more cake. But hey, I know all about having that weak spot for sweets.
Before I listened to the CD, I was trying to fit all the numbers 1-9 into the song Jenny (8675309) and I couldn't get them all to fit correctly. I'm not so imaginative. ;-). But they fit great in their song.
These songs are great so we're adding this cd to our morning "active" music playlist. I need to get my kids moving, well me too. I'm not burning calories from my Lazy-Boy chair. Dancing with kids is a great way to get the entire family moving more.
I think Mile's favorite song was track number three, One Year old, he was going, na na na na na na. I love it when music inspires my kids to get to singing and dancing. But he also seemed to like singing out Puppy's Fur. Then he also started singing to When I'm Big I want Braces, to the tune of Garth Brooks' Friends in low places. LOVE IT. He's the cutest little red head EVER! He seems to just love this CD in general.
It's hard for me to pick a favorite because I just adore 80's music.
Juice Box Heroes generously decided to offer a giveaway to one of my readers. Yeah! So you can enter to win a great children's CD. Are you a child of the 80's.
To Enter:
Please Visit Juice Box Heroes and come back here and tell me what you think of their website.
Extra Entries:
Advertise this giveaway on any giveaway site, blog, or facebook and tell me where you advertised it (include link to giveaway). 10 Extra Entries
Subscribe to my blog (recommended so that you don't miss winner's announcements)
Follow me on twitter tell me your twitter ID
Tweet about the giveaway and include a link to the giveaway (2 entries)
Click on my Suave Link and leave a comment for every time you click on it. It's easy!
The contest will run until Feb 8 th 11:59 pm Pacific. The winner will be selected by www.random.org. All rules can be found under giveaway rules.