Miles and Zoe just adore Dora. I think all 2 – 5 year olds have a thing for Dora at one time or another and I don't see any way to avoid her. She's everywhere, we don't even have TV and my kids know all about Dora the Explorer. Of course, we do have a few of her DVD's and over at Tully's where I like to get a cup of coffee, there are some Dora toys there and the kids always rush over to the kid table to see who can get to Dora first.
Mega Bloks has two new Dora playsets that let children build and rebuild with their favorite cartoon character in many different ways. Each set has a Build a Dress feature that Zoe is just in love with. We received the Dora's Garden Gazebo and Zoe loves having the ability to take doll clothes off and put them back on and switch them. I actually thought that was the most creative part about the playset, the ability to change the skirt.
Miles played with it first and he needed a little help to build the playset but Zoe came home and put it right together and it looked like my husband did it. I even asked him, did you help Zoe put that together and he said nope. She did it all by herself. Dora's Garden Gazebo comes with everything little girls need to have a garden party of their own. There is a sunflower to water, and a table with an umbrella along with a bird. Zoe put the bird in the flower pot and said that it was building a nest there and that the flower had to go somewhere else. I thought that was pretty creative of her.
That's something that Mega Bloks is really great at. Mega Bloks inspire kids in role  playing while helping them to develop their hands on coordination. They build and rebuild and play.
For ages 3 and up, Mega Bloks has new Dora Buildable playsets that let children build and rebuild in many different ways. Each set also includes a Build & Dress Dora with fun accessories.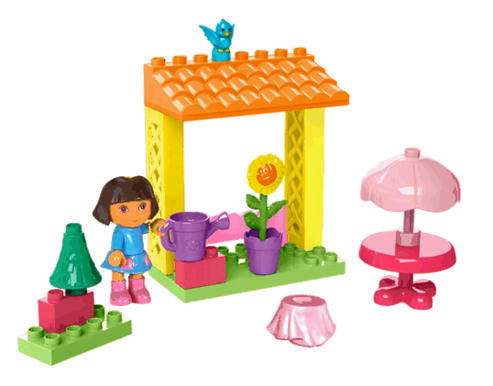 We received samples from Team Mom on behalf of Mega Bloks to facilitate this review.