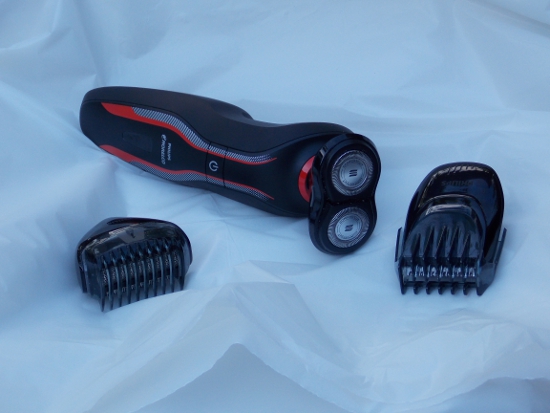 Complimentary razor provided for review.
As families gear up for the back-to-school season, you may have young men heading off to high school or college and in need of their first electric razor. A good shaver helps save guys the expense of disposable razors and shaving cream – my fiance, Jai, has always invested in an electric and used that primarily for shaving. So when the opportunity arose to try out the new Philips Norelco Click & Style, I figured this would be a handy thing to have around. When I showed it to Jai, he was delighted – I didn't realize this, but apparently he's been reading about these multipurpose electric razors recently and had really been wanting to get one. Well, perfect timing!
The Click and Style comes with three attachments: Your standard shaving attachment, a "Stubble attachment" beard trimmer designed to create that trendy 5 'o clock shadow look, and a body grooming attachment for "Manscaping", as the cool kids are calling it these days. These three heads click on and off the base with ease, and the stubble/body attachments can be adjusted depending on the length of the trim desired.
The standard shaving attachment has been providing Jai with a nice shave – he says that it is smooth and easy on the skin with its double rotating blades, which he really likes. Another unique feature of the Click & Style is that you can actually use it in the shower as well. He'd never tried a rotating blade with a shaving cream before, but he gave it a go in the shower and said that it worked well.
Neither Jai or I are into the whole "Stubble" thing, but that attachment actually worked pretty well when I was giving Jai a haircut – I used it to clear off the edges of his hair at the nape of his neck. He has also been using the body groomer attachment on his lower back and arms.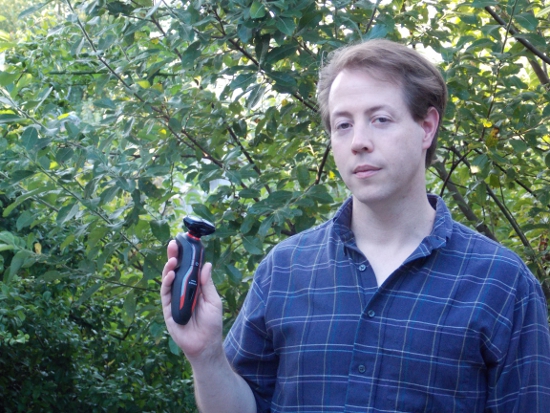 Jai told me that "This is my favorite electric razor that I've ever had". Really, I think that says it all! I think that any man in need of a good electric razor – especially younger, trend-conscious males heading off to dorms! – this is a great tool because of its options and versatility.