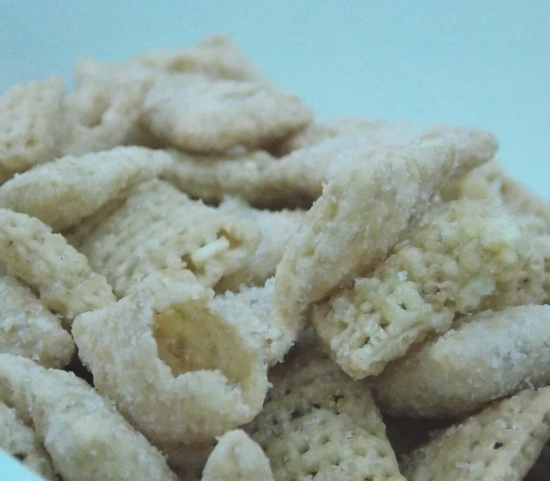 Product samples were provided for review purposes.
I love cereal. I'm not gonna lie, there have been more than a few instances where I have poured myself a bowl of cereal for dinner on a busy night! So when I received a box of goodies from Chex, I knew this would be a good option for breakfast and beyond. My package contained samples of Vanilla Chex, their newest variety; I was all out of milk when it arrived, but I opened one of the boxes just so I could have a taste. I was enjoying myself so much that I had to stop myself from snacking on the whole box dry – I can see this being really nice in muddy buddies!
But I did get a gallon of milk the next day and have been eating it "Normally" ever since – ha! We're digging the sweet vanilla taste; it might be a little too sweet for some tastes, but Jai and I have both been enjoying it. Vanilla Chex actually reminds me of a limited edition cereal I used to eat as a kid that got discontinued in the 1990s. This cereal is also gluten free and clocks in at 120 calories per 3/4 cup serving.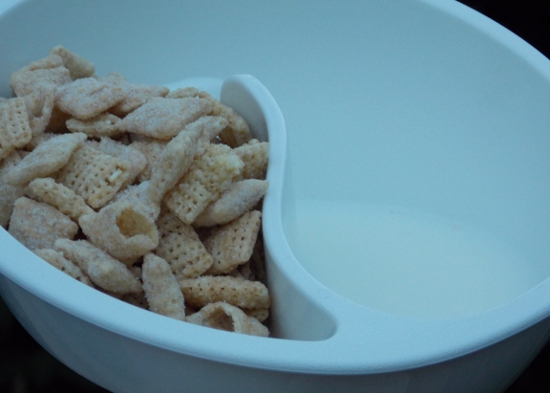 Another fun item that accompanied my cereal was an Obol. What is an Obol, you ask? This is a specially designed bowl that separates your cereal and milk so that it doesn't get soggy. The cereal sits on a "Ramp" at the top of the bowl, so you can push it down into the milk whenever you're ready. (I can picture kids having a lot of fun with this!) I'm one of those weirdos that actually likes soggy cereal, but it's a pretty neat bowl nonetheless. You can also use the bowl to serve other items, like chips and dip – how clever is that?
Have you tried Vanilla Chex yet?