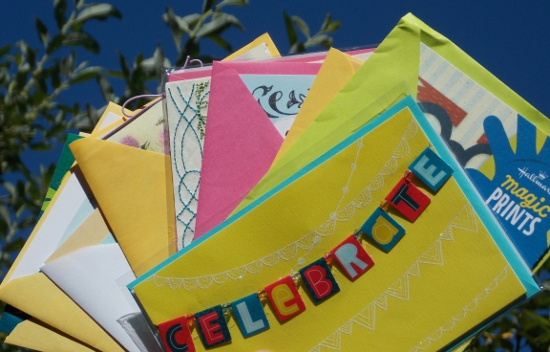 Cards & postage for challenge provided by Hallmark.
I'm one of the few people I know who still really enjoys sending snail mail. I love sending "Real" cards for special occasions! So when Hallmark invited me to participate in their Get Carded Challenge, I thought this would be a great chance to catch up on some card-writing that I had already intended to do. The idea behind this challenge is to send 7 cards in 7 days to 7 people you care about. Challenge accepted!
Day 1 – Friday, July 26th: Jai brought in the mail, and one of the packages was my "Get Carded" collection. This was a surprise selection of Hallmark cards of all varieties and categories. When I looked through the collection of cards, I found one that was written for a long-distance relationship. It was very flowery and talked about the agony of being apart and wishing to be reunited to hold one another again. So I wrote, "It's been an agonizing 5 minutes since I last saw you!" and walked upstairs to hand the card over to Jai. We got a good laugh out of that! 😉
Day 2 – Saturday, July 27th: One of my great-aunts recently fell and broke her back, so I wanted to send her a "Get well soon" card as well as thank her for a nice letter she sent me recently. I picked out a really pretty card from the pile which featured an embroidered fabric design. It was blank inside, so I was able to write a note wishing her a speedy recovery and say thank you for the lovely letter she sent me.
Day 3 – Monday, July 29th: We have a dear friend who hasn't been well, so I sent her a pretty friendship card expressing how much I value her; inside, I wrote a personal "Get well soon" message.
Day 4 – Tuesday July 30th: One of my BFFs and I have been cracking jokes about what an insane summer this is for both of us – we're both so swamped: Me, with my business, and her, with school. So there was one card in my package that immediately cracked me up: It said, "Do NOT freak out" on the outside, and "There's no problem that you, me and a bottle of wine can't solve" on the inside. I sent it to my friend because it was just too fitting, and on the inside I drew a coupon good for a girl's night, since we're going to get together for her birthday this month. The very next day she sent me an email and said: "Thanks for the card. I needed it!" and that she was looking forward to our night in.
Day 5 – Wednesday July 31st: Another good friend is having a birthday this month, so I sent her a flowery friendship birthday card. She lives several hours away, so cards are nice when you can't see someone in person often!
Day 6 – Thursday, August 1st: One of the cards I received had a cute elephant on it and was meant to wish kids a fun time at summer camp. I actually scratched out the "Camp" part and gave it to our Grandma to to wish her a happy summer, because I knew she'd get a kick out of it. She enjoyed it and told Jai specifically, "Tell Beeb thank you" for the card!
Day 7 – Friday, August 2nd: One of my relative's birthdays was coming up – yes, we know a lot of August babies! – so I had sent her a message earlier in the week to get her current address, since she's in the Navy and moving around. I found out that she was actually going to be in town visiting, so rather than mail it Friday, I hung onto her card until I was able to hand it to her in person with a big hug! She loved the green envelope – when you open the card, it has a disguise mask and says, "This isn't just a birthday card – it's a high-five in disguise!" It came with a special "Magic" ink that reveals a different color when you stamp your handprint on it. I had a heck of a time getting the ink out of my hand after making the card, so she got a laugh when I told her my anecdote!
Day 8 – BONUS! Saturday, August 3rd: We were headed to a family reunion, and our great-aunt – the same one who I sent a "Get well" card to at the beginning of the challenge – was also having her 92nd birthday. I took along a cute birthday card with a decorative pennant on it that said "Celebrate"; she really liked the front of the card and appreciated the thought.
Are you up to the challenge? Bloggers who are interested in the Get Carded Challenge can click here to fill out a form to sign up. Blogs that meet the criteria will be provided with cards to take their own 7-day challenge. And all readers can use the coupon code BLOG30 to save 30% on cards from Hallmark.com!