This is the big reason why EA and Maxis studios invited me out to play with them for the weekend. The brought me, my husband, my daughter and my son to San Francisco. My Sister-in-law lives there so it was an amazing opportunity to not only spend time with family that we don't see very often but to play games before anyone else gets to see them.
I did write about my family vacation once, but I feel that since this is the reason we went there I should mention it again with this giveaway.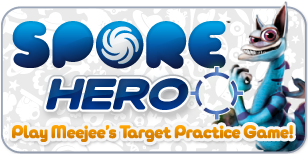 I don't have a copy of Spore Hero yet but I played it there and it was so much fun. You get to make all kinds of heroes and my kids got to play. Zoe created the most purple monster/hero she could make. It's great to see her have fun with her dad. So this vacation was awesome and we'll have very fond memories of it forever. Now, I'm not going to tell you too much because I'm going to do a giveaway for Spore Hero in a week or two. But one thing I want to mention is that Spore Hero is for the Wii and they also released a game for the Nintendo DS. The Nintendo DS, unlike most games that are released at the same time is a completely different game. Spore Hero Arena.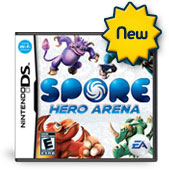 Create your own Hero with over 150 parts and powers, now for the first time in 3-D on the DS!
Fight dangerous enemies in arenas across the galaxy, from all – out 4 creature "Battle Royales", to capture the crown "King of the Planet" challenges, and much more!
Summon over 15 devastating Bio-Power attacks, from lightning strikes to deadly ground stomps!
Brawl with your friends in 4 player wireless and 2 player Wi-Fi action!
Play an original Spore story, in the same galaxy as Spore Hero for Wii. Travel to a variety of planets, completing missions, and challenging opponents who have been corrupted by an evil power. Fight to become the ultimate Spore Hero and save the galaxy!

I will write more about both games next week. For now, I'm going to write more about Spore. When we were at EA Studios with EA Play they didn't have copies of the game we came to see because it wasn't done yet. I mean we were playing on test machines. It was above AWESOME. So, they gave us a copy of Spore and the expansion pack. My husband wanted to know what we were going to be looking at so right before we went on our trip he purchased Spore.
I want to give one lucky reader the copy that EA gave my family.
I haven't played spore, but I met some of the artists and creators. They were very nice and informative and said that in creating spore knowing your math skills is an understatement. You can create everything in Spore from you creatures to your civilizations. We saw people that made spaceships and themed creations. There is an on-line network where you can share your spore creations and download others for your game. It's similar to The Sims in my opinion.  
This game has really low reviews on Amazon, but it's more about creating than playing. I mean it's loads of fun if you are creative. Spore Hero is quite a step up from Spore but Spore is in my opinion from watching my husband play with my daughter a fun creative game.
I know that if I devoted more time to game playing I would enjoy it too.
Product Features
Edition: Standard
Epic journey from the origin and evolution of life through the development of civilization and technology and outer space exploration
Play any way you choose in the five evolutionary phases of Spore: Cell, Creature, Tribe, Civilization, and Space
Grow, evolve, interact with and battle other cultures, and conquer the planet
Visit literally millions of planets full of other player's creations
Single-player game provides unlimited worlds to explore and play
To Enter:
Tell me what your themed civilization would be? (be creative, Simpsons, Star Wars, go crazy)
Extra Entries:
Vote for me for 5 extra entries
Non-bloggers get an extra entry for every e-mail they send out linking to this giveaway cc louise@looksblue.com (be sure to leave a comment for every person you e-mail, for example if you e-mail 10 different people leave 10 different comments)
Subscribe to my blog
Follow me on twitter tell me your twitter ID
Blog about the giveaway include a link to me for 10 extra entries
Tweet the giveaway (every time you tweet you get an entry) Link to the giveaway please!!!
Add my button to your blog/blog roll 10 extra points if it is on your homepage
Dig, Stumble, or fav me on Technorati (two entries for each one)

Comment on any other post and come back here and tell me you did.
Leave a comment for every entry
The contest will run until October 26th 11:59 pm Pacific. The winner will be selected by www.random.org