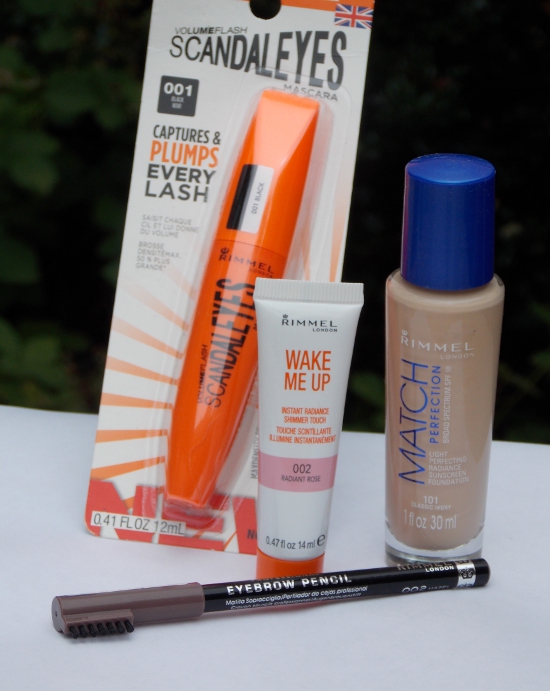 Makeup provided for review purposes.
When I first started wearing makeup as a teenager, it was so exciting when I got to try new products. I'm turning 30 next month, but that excitement has never diminished – I still love trying new colors, new tools, and new beauty innovations. It's so much fun!
I recently got a package full of Rimmel London products intended to help you get a great summer look. I started off by applying Rimmel London Match Perfection Foundation in color 101, Classic Ivory. This shade was a good match for my fair complexion and gave nice, light coverage. The best part for me is that this foundation also SPF 18 – it's important for me to have SPF on my face year-round, but especially during the summer. For days when I know I'm going to have a lot of sun exposure, I put sunscreen on first and then this foundation. I burn easily!
Next, I applied Wake Me Up Instant Radiance Shimmer Touch in Radiant Rose to the top of my cheeks. It has a nice creamy consistency and adds a subtle, pretty hint of color. I don't tend to wear blush much, because I get overheated easily and my face gets red and flushed – I figure it's my natural blusher. 😉
For the eyes, I applied my eyeshadow and eyeliner as normal, and finished with ScandalEyes Mascara in black. This does a good job of extended and enhancing the look of my lashes without being too cakey or "Stiff" looking – I actually quite like it.
For my final touch, I penciled in my eyebrows with Professional Eyebrow Pencil in hazel. I only use eyebrow pencils sporadically, but since my hair is currently dyed dark red & black, this color went well over my naturally blonde eyebrows. I thought the color went pretty well with my look – and my favorite part was the fact that this pencil has an eyebrow brush built right into the top of the lid. This is SO handy for me, because my last eyebrow brush wasn't as convenient and ended up breaking. I always smooth my brows out so it's nice to have this pencil in my bag to keep my eyebrows groomed even when I don't fill them in with color!
Here's my finished look: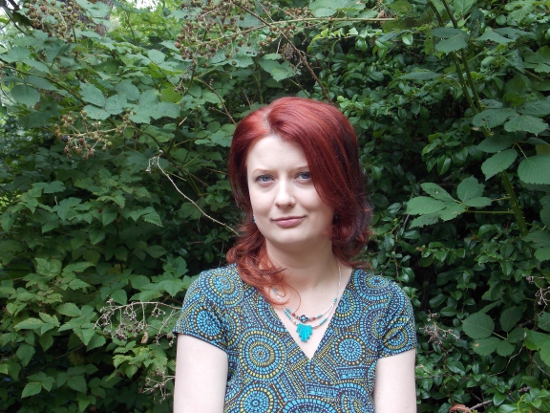 Rimmel London Giveaway
Three MomStart readers will win a product from Rimmel London's summer line! Please read the prizing details carefully:
1 winner will receive 1 bottle of Rimmel London Match Perfection Foundation in a random shade.
1 winner will receive 1 tube of Rimmel London Wake Me Up Instant Radiance Shimmer Touch in a random shade.
1 winner will receive 1 wand of Rimmel London ScandalEyes Mascara in a random shade.
Winners will be drawn at random. This giveaway is open to the continental US and ends on August 8th at 11:00 PM PST. a Rafflecopter giveaway