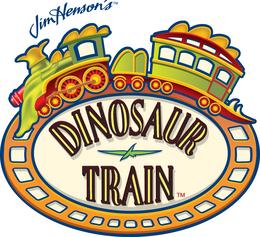 "Dinosaur Train"
"Dinosaur Train"
"We're going to ride"
"The Dinosaur Train"
Finally my daughter is asking for something other than My Friends Tigger and Pooh. PBS Kids, sent us a preview copy of Dinosaur Train. We have been watching it at least once every day since we got it.
Site Sneak Peek: July 2009
Full Site Launch: mid-August 2009
Dinosaur train is a new CGI animated series by Jim Henson's. It is 15 minutes long with cute musical songs to teach children about dinosaurs. Buddy doesn't belong in the family of Ptederons but they accept him and make him part of the family. He happens to be a T-Rex. His Siblings are Tiny, Shiny, and Don. They all ride the Dinosaur Train, to learn new things. Each episode is summarized at the end by Scott D. Sampson, PH.D. – Paleontologist.  This preview disk had two different episodes. One was about Herbivores and the other was about working together. You can watch both episodes yourself on-line.
and