Bare with me for a second as I have to tell you I wrote this review and somehow it didn't get saved. SIGH technology sometimes is so frustrating, with that said, the Philips Norelco Bodygroom Pro  is not frustrating at all, in fact I LOVE using it. What? You may say that the Philips Norelco Bodygroom is only for men, well yes it's a product designed for men, but I'm the writer in this house so I decided to give it a try and I loved how easy it was to use, and clean afterwards. So, join me as I show you all it's features and why I enjoyed using it.
My husband has been a Philips Norelco fan for a long time now. He even just recently purchased a Philips Norelco gromming kit that comes with a vaccume system built in and is waterproof so he can use it in the shower. When Philips Norelco asked me if we wanted to review the Philips Norelco Bodygroom Pro the main reason I said yes was because it also is waterproof, the other main reason is because we're already very big fans of Philips Norelco. We also have their Sonicare toothbrush system.
The Philips Norelco Bodygroom Pro is an all-in-one trimming and shaving system that offers a safe, gentle, quick and effective way to eliminate body hair in the shower or standing at the sink in the bathroom.  The Bodygroom Pro is like I said designed for men but that didn't stop me from trying it. It is cordless and is ideal for men who need to shave unwanted body hair.  It comes with a charging stand, the shaving unit, plug to charge and a cleaning brush. The cleaning brush is just like the cleaning brush my husband received with his other kit.
The Philips Norelco Bodygroom Pro has two ends with two different shaving options. On one end you have the end that will shave very close to your body and follow the contours of your shape. I tried using that end on my legs and found that in that way it wasn't designed for women. Could also be that I shave my legs like once a year when the sun comes out in Washington, believe me it's a very rare occasion. I did however use it under my arms without an trouble.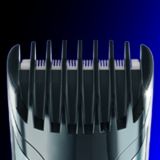 The other ends has 5 length settings for different body hair lengths. I used that one down under and was very please with the trimming tool. Select and lock your desired length setting for convenient and skin friendly trimming of all body zones. It's easy to set and I really liked using it. In fact, I even switched ends to get the bikini area nice and short.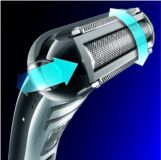 For a close shave following your body's contours, this 3-Dimensional pivoting head adjusts to every curve of your body for a close and comfortable shave. It has a hypo-allergenic foil shaver and patented pearl tips, and a hypo-allergenic metal shaving foil and patented pearl tip trimmer that prevents skin irritation for ultimate body comfort. The rounded tips allow for smooth contact with your skin, while the sharp cutting edges deliver a high trimmer performance.
My husband having used plenty of shavers in his past loves when a razor is safe to use in the shower because cleanup is so easy. I used to see the disaster the sink was in after he trimmed his beard, now there is no mess as he uses his trimmer in the shower. And as I said I used the BodyGroom Pro in the shower and cleanup was easy, the raiser and the trimmed hair. My cleanup was so easy. The battery delivers more than 50 minutes of powerful cordless after a 1 hour charge. A 10 min quick charge gives you 10 minutes of grooming time, so it is always ready when you are. Striped rubber grips on each side ensure optimal grip, even when wet, for better control when grooming your body.
I'm very pleased with the Bodygroom pro and recommend it.
This giveaway has ended. Congratulations to the winner, Carole I.
We received samples. Please see the giveaway rules