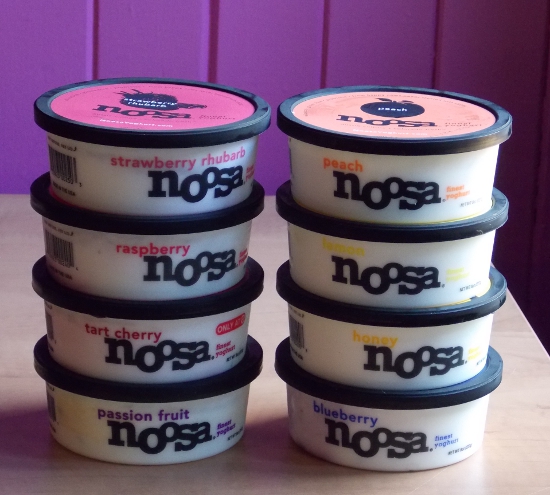 Yoghurt samples were provided for review.
As a British expat living in the US, I understand what it's like to long for a taste of home. So when a group of Australians living in Colorado decided they wanted to bring Aussie-style yoghurt to America, I can relate – we even spell "Yoghurt" the same way. 😉 This yoghurt line, named after Noosa, Australia, brings a special touch with its rich, creamy textures and fruit purees. Noosa is so thick and smooth that it almost reminds me a little of custard. There are 9 flavors total:
We loved the blend of chunky fruit with the creamy yoghurt base – the Passion Fruit even comes complete with crunchy seeds, so you know they're using real ingredients! This has been great to have around as a breakfast/mid-morning snack. Noosa is meant to be tart and tangy; I found the honey yoghurt to be almost a little too tart by itself, so I added a little sprinkling of sugar on top. I thought the Lemon variety was going to be a bit sour, so I saved that one for last, but I was surprised – it had such a lovely flavor that it brought to mind lemon meringue. It ended up being my favorite out of all of them! The Lemon is one of their newest flavors, debuting along with Tart Cherry. Yum! I'm so glad I got to taste this "Yoghurt of Oz" and I'd love to have it again!
Noosa Finest Yoghurt is available at select retailers across the US, including Safeway, Albertsons, and Whole Foods – click here to look for a store near you.