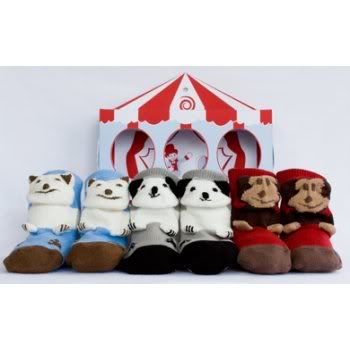 This may be too much information but at the same time it shows just how much my daughter loved these new Zooni socks from their new line, ConFEETi 3-D socks, we received for review. My daughter say them and wanted to put them on. I told her they were for her brother and not her but she still wanted to put them on. I let her, told her it was a monkey on the sock and her brother started running around like a crazy monkey and going "eee" "eee" "ooo" "ooo" like a monkey would.
She would not take them off.
I think she wore them two or three days straight. I finally just took them off of her feet and told her we had to wash them. Now why didn't I think to get a picture of them before I put the in the laundry where they still are. I don't know.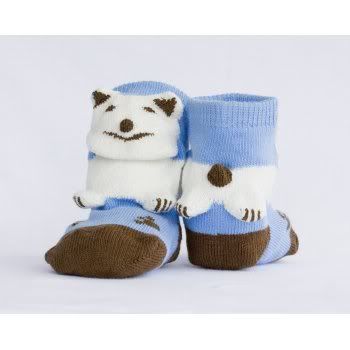 I think they are adorable because when they are on they have feet. In the front and in the back. This picture is the only way that you could possibly understand what I'm talking about.. But even with this picture you can't see how cute they are. I'm just kicking myself for not getting that picture taken. Oh well, I can always update my post later after I do the laundry.
Zooni also makes the most adorable hats.
Each Zooni hat (mop hats)is made with love, quality and care using a blend of natural cotton and micro polyester. The material is stretchable, feels wonderfully soft and the Flower Power hat of our choice fits perfectly on my little girl's head. Caring for the hat is also very simple, just wash by hand with cold water and lay it flat to dry. The hat pictured here is the chunky monkey. It matches the socks we were given to review.
Thank you to
and to Zooni Wear for providing the review items for this review.
…