This post contains our Amazon Associates link.
SOLO: A Star Wars Story is now available on Digital HD, and will arrive on DVD, Blu-ray™, Blu-ray 4K Ultra HD™ and On-Demand on my birthday, September 25th! Happy birthday to me from a galaxy far, far away! To celebrate, we're bringing you a scoundrel's bounty of fun, from crafts like a Millennium Falcon papercraft and Chewbacca foldable to a fun sweepstakes, bonus clips, concept art and more!
Free Downloadable Millennium Falcon Papercraft: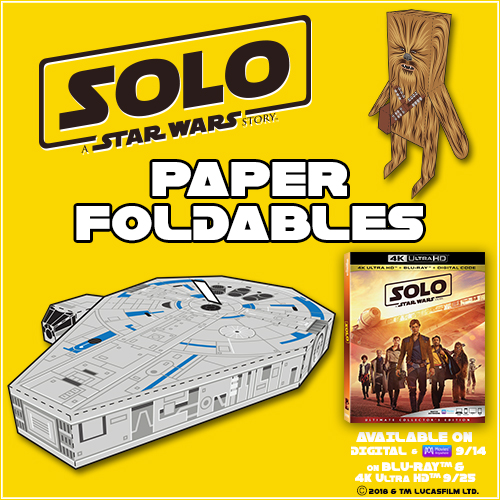 Simply click the link above to download a printable PDF of two paper foldables to cut out and enjoy: A build-your-own Chewie plus a fun Millennium Falcon papercraft.
Want more Star Wars craft fun? Then don't miss our 13 Intergalactic Star Wars Crafts roundup and How to Make a Chewbacca Bookmark tutorial!
Xbox One X Solo Custom Console Sweepstakes
Lucasfilm and Xbox are teaming up to bring you the Xbox One X Solo Custom Console Sweepstakes, where you could win a custom console that includes a physical copy of Solo: A Star Wars Story on 4K Ultra HD. The sweepstakes is open to residents of the US and Canada, excluding Quebec, and runs until September 30th, 2018. Enter now by visiting SoloxBoxSweeps.com!
Bonus Clips
Get a peek behind the scenes with these fun bonus clips from SOLO: A Star Wars Story:
SOLO: A Star Wars Story Concept Art
Speaking of behind-the-scenes treasures, this SOLO: A Star Wars Story concept art gives us such a neat look at the filmmakers' vision for SOLO, and brings a little extra insight into the process that goes into fleshing ideas out from paper (Or tablet, these days!) onto the big screen:
Millennium Falcon Animated GIF!
You can watch SOLO: A Star Wars Story on Digital HD now – and be sure to pick up a physical copy on September 25th!