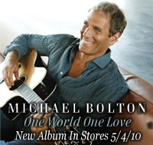 Thanks to Team Mom's group Music Moms I received Michael Bolton's new CD One World One Love. On this record, he's collaborated with a number of exciting talents including award-winning singer/songwriters Lady Gaga and Ne-yo. He will also be embarking on a 6-month World Tour with stops across the US and Europe through September of 2010.
I've been listening to it during the kids' naptime. It's been relaxing and refreshing. When I hear the music I remember Michael Bolton and  how he used to look with long hair, how long ago was that? Forever probably.
I've always enjoyed his music and this CD is great too. With 12 different tracks and many of the songs about love, I'm just in my own zone.
1. Ready For You
2. Just One Love
3. Need You To Fall
4. Hope It's Too Late
5. Can You Feel Me
6. The Best
7. Murder My Heart (featuring Lady GaGa)
8. You Comfort Me
9. Sign Your Name
10. Invisible Tattoo
11. Survivor
12. Crazy Love
If I had to pick a favorite song, it would have to be Crazy Love. Won't you give me love love love, crazy love. That's what I need, I'm often low and in a dark place and it's the love of my friends and family that keep me up. Listening to music and thinking of those people bring happy memories.
One World, One Love
(associate link)
Check out Michael Bolton on Twitter and Facebook.
I received this CD Free to me, from Team Mom.