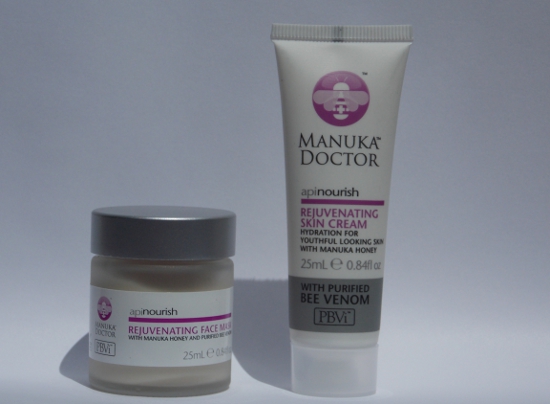 Product samples were provided for this article.
I'm always on the search for newer and better skin care products, and I've tried all kinds of unique things in my quest to find a good anti-aging product. When I was recently introduced to Manuka Doctor Skincare, the first thing that jumped out to me was the fact that they use purified bee venom in their products. Bee venom? Well, that's a new one on me! Apparently, this has been called "Nature's answer to Botox" – I'm always a skeptic, but hey, bee venom certainly wouldn't be worse than injecting a neurotoxin. We do the craziest things for beauty, don't we?!
I received samples of both the Manuka Doctor ApiNourish Rejuvenating Skin Cream and the ApiNourish Rejuvenating Face Mask. These products blend purified bee venom with ingredients like Manuka honey, and tout the bee venom as an anti-aging product. Apparently, bee venom is the new trendy skin treatment with celebrities and royalty – Manuka Doctor have a quote on their website from Dr. Sunil Chopra stating that there is convincing laboratory data to back this up, which sounds awesome; unfortunately I couldn't find any sources for these lab findings, which I think would be a great thing for them to publish and link to. Like I said, I'm a skeptic, so although I'm willing to try almost any cosmetic product, I'm not easily convinced; I like to review medical publications and see what data has been assembled for myself. I am intrigued by the concept, so I'd love to read up more about what's been studied.
So, how have the products been working? I've been using them for about a week so far – during my first day using the skin cream, I did a patch test as advised to make sure I didn't have a reaction to the product. Obviously, you're not supposed to use this if you have a bee allergy! I've never been stung by a bee in my life, so I thought, "This would be an interesting way to find out if I do have an allergy…" Fortunately, I had no issues with this whatsoever.
The Rejuvenating Skin Cream is a thin lotion that I apply to my face in the morning. It's not meant for use around the eyes, so you'll want to combine this with an eye cream during the day if you're as much of a moisturizing nut as I am. The cream does have a definite tingle to it, but has overall been just fine for daily wear. I've also tried the Face Mask twice so far – it has a nice, creamy consistency, and since you're meant to put on a thin layer, it really looks more like a moisturizer that absorbs into the skin rather than your traditional mud mask! Apparently, you can even use is as a deep moisturizing treatment if you want, but that sounds way too intense for me. The mask stays on for 30 minutes, and I do find that it stings a little, but not enough to make me take it off.
I have super sensitive skin – crazy sensitive, really! – so I was aware that this line of ingredients might be too much for me. I did notice that after using both the Face Mask last night and the Skin Cream this morning, my face feels a little tender, so I think I'll reserve the Face Mask as a more sporadic treatment and possibly use the Skin Cream every other day. It's only been a week, so it's not like the clock has been turned back on my face, but I'm open to trying these for a while and seeing if there are any benefits long-term. I think if I don't overdo it, these won't be too harsh, although my skin will sometimes have a reaction to a product that I've used for months without issue, so I'm always aware that my crazy skin can complicate which products I use!
For more information on this and other bee venom products, check out Manuka Doctor.com.
What do you think about purified bee venom as a skincare treatment, readers?