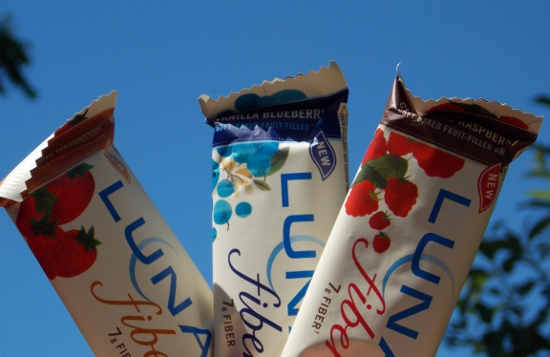 Samples were received for review consideration.
I've long been a fan of granola and meal bars for their convenience. As my fiance Jai and I transition off the diet plan we've been following for a year, we've found that snack bars provide an easy, pre-portioned option for breakfasts and lunch that fits with our goals. I like to keep a supply in the pantry so we'll have a grab-and-go option available for brown bag lunches or road trips!
So, when I had a chance to sample a new offering from LUNA, I was all ears. I've enjoyed their bars for a long time – in fact, back in the days when I used to attend anime conventions, my friends and I would stock up on bars to eat while we were there; one year, a friend of mine dressed in costume as Luna from Sailor Moon, so we joked about Luna eating LUNA bars. Yes, I'm a nerd!
The newest bar from LUNA is LUNA Fiber, which comes in three flavors: Chocolate Raspberry, Vanilla Blueberry, and Peanut Butter Strawberry. Jai is a big peanut butter fan, so three guesses which flavor I gave him to try first! He thought the combo of peanut butter and strawberry was quite tasty. Meanwhile, I tried out the Vanilla Blueberry, which has a sweet taste and made for an enjoyable breakfast. Being a chocoholic, the Chocolate Raspberry was my very favorite, since it has a nice cocoa flavor. The bars seemed a teeny bit on the dry side, but I thought they had great flavor and I would absolutely eat them again. The bars have 7 grams of fiber with 110-120 calories each, so they fit perfectly with our lifestyle.
What's your go-to snack for busy days?