Samples of Kidz SuperFood provided for review.
Eat your veggies!! I'm sure every child has heard this uttered at least once. Indeed, even parents who actually want to eat their veggies may find it hard to get the full 8-a-day servings in. That's why Amazing Grass introduced Kidz SuperFood, a blend of drinkable greens aimed at children's tastebuds. According to the company, each serving of Kidz SuperFood equals three servings of fruit and vegetables. They blend everything from zucchini to plums in these mixes, available in Chocolate and Wild Berry flavors.
The packets recommend adding the powder to things like milk, applesauce, and yogurt, which sounded good to me since I usually prefer to add this type of "Green" drink to a smoothie with other ingredients. I tried both the Chocolate and Wild Berry added to some sweetened honey yogurt – the Chocolate was my favorite! As long as you add enough yogurt, this has a good, subtle chocolate taste. If you add a lot of powder to a small amount of yogurt, you can detect the distinct greens taste, so I personally would advise experimenting with the proportions and taste-testing it yourself before giving it to your kids so that they don't turn their noses up. I'm willing to bet that you could sprinkle some of the chocolate powder in brownie batter or otherwise "Sneak" it into other foods as long as you're not heavy-handed about it!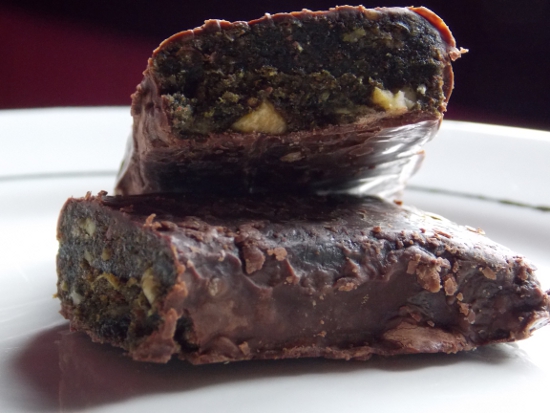 I also received a Green SuperFood Energy Bar in Chocolate to try out. The bar is made for adults and has a lot of attributes that I like – it is USDA Organic certified, and the wrapper also says "Fair Trade" although there is no Fair Trade certification on it. I believe what they are referring to is their chlorella and spirulina, which according to this page is fair trade certified. The bar is also gluten free and vegan.
The outside of this looks like a heavy chocolate bar, while the inside reveals a dark green center from the vegetables. This just wasn't for me because of the taste of "Greens". Jai tried it and said it tasted better than he expected, and although it wasn't his favorite thing, it's something he would eat when hungry.
Click here to find an Amazing Grass retailer in your area, or visit AmazingGrass.com to place an online order!
How do you make sure that your kids eat their veggies?