I've been working with JumpStart for over a year now and it has been quite exciting to see them progress and grow and move from on-line/computer gaming to the Wii.
JumpStart is an award-winning adventure-based 3D virtual world that is super-personalized, wildly imaginative and really fun, but don't let that fool you – it also teaches math, reading, and critical thinking skills so kids get a real jump start in life.
They recently sent me their newest game JumpStart Get Moving: Family Fitness. The game will be in stores June 15th and it will be sold for $29.99. It has been rated E for Everyone with Comic Mischief by the ESRB.
We put it in last Friday to give it a test. The graphics immediately pulled Zoe and Miles in. They each wanted to play so I gave them a controller. We created avatars for each of them and I let them pick out all the colors. So of course Zoe was as purple as she could possibly be and Miles had a lot of orange. Creating your own avatar involved hair, eyes, smile, clothing, body color and shoes.
I love that two players can play at the same time so my children don't have to take turns, and I love that Zoe was trying very hard to do the actions. Some of the actions were a little bit too complicated for her to do. For instance, in playing Volleyball you have to go up and in the direction of the bull's-eye. Even i had trouble making both movements.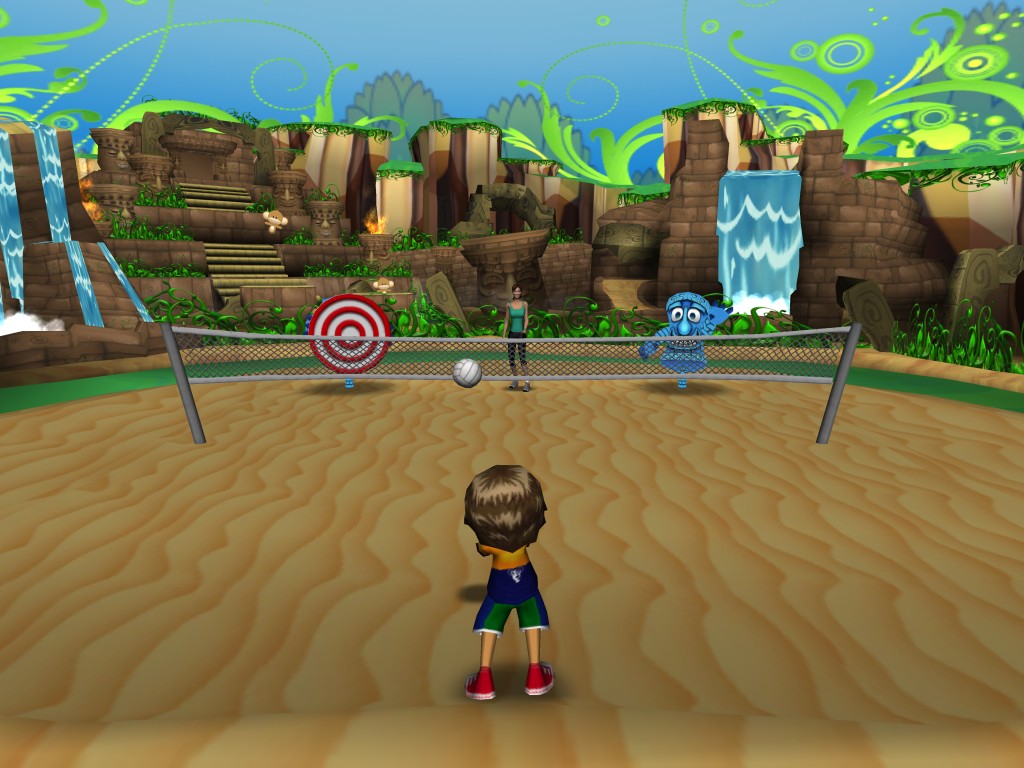 I did find that with practice though, it became easier and easier to accomplish the goal. There are quite a few different activities that you can do right away. I like picking one of the rotating activities that lasts a while. they are short and keep my kids attention and go from a running activity to volleyball, to baseball. Each activity involves movement. In total there are 11 exotic arenas/backgrounds to choose from and more than 15 sports challenges. It is fun and got all three of us through a rainy morning last week.
Some of the activities you can use the Wii Fit with, and some of them require the nun chucks to be plugged in. The running activity requires you to have the controller in the left hand and the nun chucks in the right hand and you go up and down with your hands like you are running. You don't' have to run in place but I'm sure it's a good thing to encourage your children to do and it will burn even more calories. 
Having two children that need to be more active than they are, I am so pleased that Jumpstart put together a game like this. Brook Burke is the trainer that shows you how to do each activity before it begins. You can practice with her before starting each activity.
As a mother of 4, Brooke Burke knows that raising healthy kids means worrying about their minds and bodies. That's why she's teamed up with JumpStart to create a game that gets families up, active and healthy together! She's discovered it's the perfect way to teach her kids that fitness doesn't have to be a chore.

Access expert tips for more ways to stay healthy.
Train with Brooke to make the most of every motion.
Track calories burned to see your progress.
Enter to Win:
JumpStart Get Moving Family Fitness for the Wii
To Enter:
Give me a tip on getting kids to be more physically fit.
Extra Entries:
Tweet or hit the RT button up top:
Jumpstart Get Moving: Family Fitness Wii Videogame #Giveaway http://bit.ly/cHn7JW
Follow me on twitter tell me your twitter ID
Follow me on Google Friend Connect
Subscribe to my blog
Comment on any other non-giveaway post
Advertise this giveaway on any giveaway site, your blog, or your facebook page and tell me where you advertised it or Use any of the share options below, digg, stumble…2 entries each  THis giveaway Ends July 5th
I received a free product to facilitate this review. All opinions are my own, JumpStart is also providing the giveaway copy.