This post contains our Amazon Associates link.
The beginning of October signals the start of my favorite time of year: Halloween season! All Hallow's Eve is my favorite holiday, and I love getting into the spooky spirit by decorating and hosting my famous Halloween parties. My taste is firmly on the "Cute and campy" side of spooky fun, so films like Hotel Transylvania 3 are much more up my alley than creepy horror movies. Just in time for Halloween, Hotel Transylvania 3 is coming to Blu-ray™ Combo Pack and DVD TODAY, October 9th, and is packed with bonus features – such as a tutorial on how to plan a spook-tacular sleepover!
Hotel Transylvania 3 Bonus Clip: Plan a Spook-Tacular Sleepover!
Are these crafts adorable, or what?! If you've ever been to one of my Halloween parties, you'll know that these are exactly the kind of Halloween crafts I make. I might need to pick up a copy of this DVD for some party inspiration!
Free Printable Activities: DracuStraws & Drac's Spooky Smoothie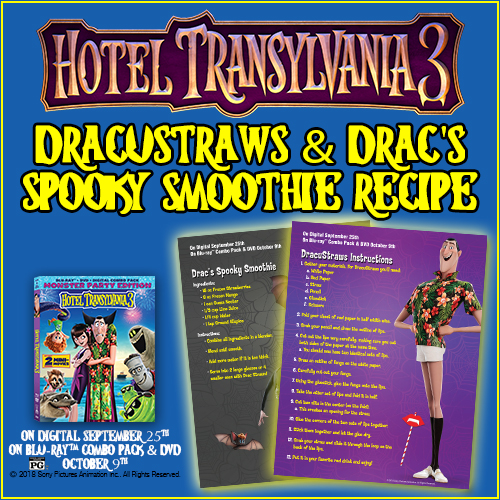 To get a head start on your spook-tacular party planning, click on the image above to download two fun, free, printable activity sheets: One is a craft instructional showing you how to make DracuStraws, and the other is a recipe for Drac's Spooky Smoothie – the perfect Halloween party punch!
Scary-Oke Sing-Along "Oh, These Wolf Pups!"
I love doing karaoke at parties – so what better activity for a Halloween gathering than "Scary-oke"? The home edition of Hotel Transylvania 3 includes three different sing-alongs – check out the bonus clip above for a sampling what scary-oke you can expect!
Here's the full list of the Hotel Transylvania 3 bonus materials you can look forward to:
Bonus Materials Include:
• Three All New Scary-Oke Sing Alongs: Sing along to three Hotel Transylvania 3 inspired songs with your favorite characters!
o "Dennis Had a Giant Dog" – Sung by Dennis & Winnie
o "Monsters Like to Party Down" – Sung by Johnny
o "Oh These Wolf Pups" – Sung by Wanda Werewolf
• Plan Your Own Spook-tacular Sleepover: This feature will give you all details on how to make your own sleepover spook-tacular! From snacks to crafts to games and more, follow these steps to create a Hotel T sleep-over with your friends and family, the perfect setting to binge watch all 3 Hotel Transylvania movies.
• Vampire Make Over: Mavis and Drac Tutorial: Learn how to turn yourself into your favorite Hotel Transylvania 3 characters.
• Behind the Screams – The Voices of Hotel Transylvania 3: Step behind the "screams" with the returning stars and hilarious new cast to see how these characters are brought to life in the recording booth.
• Johnny's Home Movies (Franchise Recap): Johnny brings viewers up to speed on what's happened in the Hotel Transylvania franchise so far.
• "I See Love" Monster Dance Party Dance Along: Get up and get moving to this haunting monster mash.
• Drac's Zing-tastic Read Along: It's storytime with your favorite characters have a silly tale about Drac's search for a Zing! Read along or sit back and enjoy!
• Two Mini Movies (rated G): Two mini-features that will have you howling.
o Puppy
o Goodnight Mr. Foot

So what are you waiting for? Snag your copy of Hotel Transylvania 3 today on Amazon!