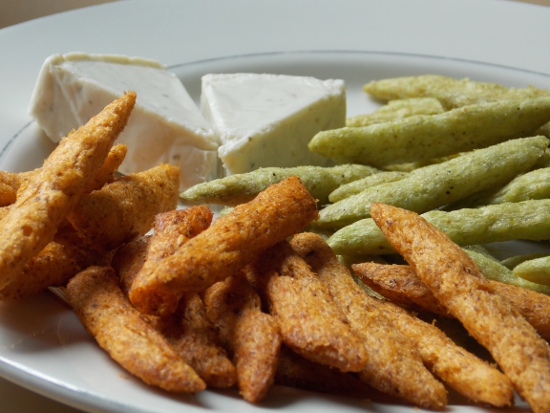 Samples were provided for review purposes.
Back in 2008, my fiancé Jai and I embarked on a very long drive from Oregon to Arizona. I was having a lot of health problems at the time, so before the roadtrip I went shopping for some snacks to bring along that wouldn't aggravate the esophageal spasms I was having. I remember one of the things I bought was a bag of Snapea Crisps, a baked snack made from dried peas. I remember eating so many of these tasty snacks on the road that I actually had to take a break from them for a while!
Fast forward to today, and Snapea Crisps are debuting a new name – Harvest Snaps – and a new range of flavors, including Lentil Crisps, another baked snack made from the legume. I received a sampler of these new varieties which included the following:
Snapea Crisps:
Lightly Salted: This is the classic plain flavor, a puffy snack that turns peas into a crunchy treat.
Black Pepper: This flavor has just the right amount of yummy pepper flavor added to give it a nice taste.
Wasabi Ranch: I think this one might have been my favorite! I love ranch, and this added just enough spicy kick without being too much.
Lentil Crips:
Tomato Basil: This airy lentil snack has the same texture as the Snapea Crisps and a rich tomato flavor.
Onion Thyme: I'm a big fan of onion so I thought this was a good combo!
Snapea Crisps are made from 70% dried peas while the Lentil Snaps have 65% lentil content, with each bag clocking in at 120 calories per 1 ounce serving. We ate these with a few wedges of cheese for a fun and tasty little snack! If you're heading on a road trip this summer, Harvest Snaps are a nice option for packing along in the car. I speak from experience here!

Learn more and find a store near you by visiting HarvestSnaps.com!