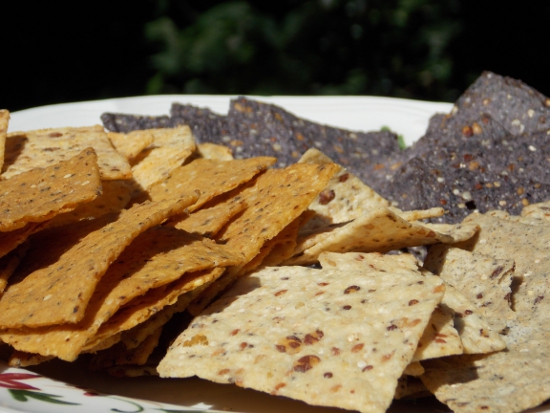 Chips were provided for review. Yum!
This week, I received a parcel in the mail containing several bags of Way Better Snacks. It's always a good day when I get chips in the mail! This brand calls themselves "Way Better" because of their chips' myriad features. They are – drumroll please – made from sprouted ingredients, gluten free, vegan, Kosher, processed in a nut-free facility, contain no GMOs, and have no trans fat – phew!
Way Better Snacks also have a sense of humor; included with my chips was a pamphlet entitled "The History of Things Made Way Better", which included upgrades through the ages, like swapping leaves for bath tissue. Ha! One of the promotional fliers was printed on recycled paper containing seeds, so that it can be planted and turn into flowers. I thought that was a nice touch!
I received a total of six bags of tortilla chips to sample. All of the chips contain ingredients such as daikon radish and broccoli seeds, giving them a really nice, distinct flavor – think sesame seed crackers or snacks along those lines. The flavors included:
Jai and I have been loving all of these flavors – they're really good! We both came to the conclusion that the Sweeet Potato and Sweet Chili were our favorites. As Jai put it: "The Sweeet Potato is subtly good, and the Chili is dramatic." The Chili has a bit of heat to it which mixes well with the sweet overtones – I had some of these with a wedge of creamy cheese, and the coolness of the cheese really complimented the spice of the chips. It's not overpoweringly hot, but if you're not much for chili then you may not be crazy about it. I used to have a really hard time with anything spicy until a few years ago, and now I love hot food…go figure!
All of the chips have a nice taste to them – the No Salt Naked Blues is very plain, so I enjoyed that one most served with some garlic hummus. Yum! Way Better Snacks are way tasty and would be great for parties. If you'd like to give these chips a try, you can locate a retailer near you by clicking here or order them online here.