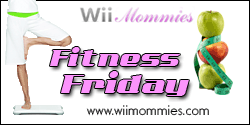 I haven't posted with the Wii Mommies Fitness Friday since about May. Did I have great fitness without them? No I did not. In fact, from June through December I put on 7 lbs. This is a huge step back for me because I can't put my pants on. I have one pair of jeans that I can wear and I haven't been able to wear those since my surgery. When I went in for my surgery I weighed 157. I need to weigh between 114 and 135, my goal is to be 130 before BlogHer2010.
I know deep down that this is going to take a lot of work and dedication. It's going to take a lifestyle change. I need to drink water every day. One whole glass before every meal will help lower my appetite. I need to stop snacking at bed time, and I need to stop eating off of the kids plates after each meal.
I need to get control of my serving sizes even when it's something I LOVE. I need to wait before I get seconds and give my stomach some time to settle before I load up on more food. I need to cute back on my sugar intake and coffee creamer. I should give up coffee but that's an unrealistic goal so I'm going to try and just cut back.
I'm supposed to be exercising right now but it has to be very light. Mostly the only thing I'm approved for is walking so my goal for the week is to walk three times. I don't want to set such high goals that I just give up again. Giving up is not an option. It's not healthy to be carrying around all this extra weight so I'm going to do something about it.
So for the seven days my concentration will be on drinking water, and walking. Hope I can talk the kids into walking with me. ;-). Feel free to leave your link with any Fitness post of your own and I'm going to come by and comment. Part of my New Years Resolution is to be more supportive to other bloggers.