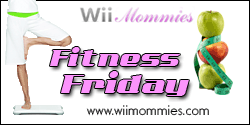 The first part of my week I did not have any exercise. Except for the work it took to travel to Texas. I carried my diaper bag, back pack with my computer, held my daughter's hand and strolled my son across the airport, until I was getting on the airport and I had to life my son, while he was in his car seat and carried it to the back of the plane. Can you picture this. I had to life him up over the seats and try to keep it above the seats so that I didn't hit anyone with him. Then I threw him into the seat and had to find a way to take care of everything else. EEEK. My muscles are still hurting.
That was Monday!
Tuesday, Wednesday, and Thursday I did no exercise. Thursday I was in the car all day, oh wait, yes I did exercise yesterday. Once I arrived at Opryland I walked what feels like five miles going back and fourth from my room to the events here at BlissDom.
I passed out last night because my whole body was so tired. I think for the rest of the weekend I'll be ok eating whatever it is that I want. There is so much movement going on here and lots more to do tonight. I'm having a great time. Seeing familiar faces and making new friends. Opryland is so large. I had no idea how big it is, there is a boat ride inside, a ton of stores, conference rooms and hotel rooms. I'm loving it.
I'm not sure that I've lost any weight yet, but my clothing is fitting. I'm wearing a pair of pants that I haven't worn in three years so YEAH!! I'm so excited about that.
This weekend I'll be walking everywhere and next week I'm getting back into my routine with my children. I need to get my kids walking with me again once they are feeling better. I know that walking will be great next week, well weather permitting. I think I'm randomly going from topic to topic about exercise. Good Luck with your fitness this week.