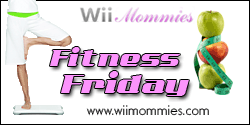 I'm trying very hard to continue to be consistent. In my blog, in my exercise just in my life. However, I'm finding that I've been exhausted this week just trying to keep up. Perhaps it's just adjusting to taking my husband to work again every day. We have to get up at six instead of 8 it is a huge difference. I have been taking the kids to exercise and my daughter is actually loving the walks now. I'm so happy about that too because we can go for longer ones if she's not whining the entire way. So we're all moving a lot more and I think she looks great. She has more energy and is laughing a lot more.
This is what I need to do:
I need to get out of bed, get the kids ready, take my husband to the bus stop, come home, fix breakfast and then do my exercise while the kids are eating. I've been told that it is good to eat after exercise so then I'll have breakfast. I was also told to have a protein and a high complex carb. So this next week I'm going to try and take things to an even higher level. I think by adding to my routine then I'll be feeling as good as Zoe is. Oh how our children can be so very inspiring.