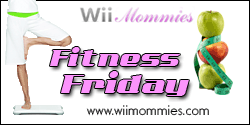 My Progress for last week was wonderful and with the small amount of movements I've been feeling better. I had my follow up with my doctor and I've been released. So I can do more movement and get my life back to normal. I took the kids for one to three walks every day rain or shine and I hate the rain I really do. I've been depressed because of the rain. I need some sunshine so I'm going to spend a few weeks in Texas. It's rained for 15 days straight.
I've been talking to my neighbors a little on my exercise adventures because they too have children that need some playtime. It's their opinion that I just need to get over it an let my kids play in the rain. So today i tried really hard and I let the kids play in the back. It's a tiny space maybe five feet and they ran back and fourth for a little bit. I was watching them and wishing that I had my energy back, but I know I'm on the right path.
I'm going to continue my walking regimen and try to increase my indoor activity. I need to dig out my Wii Fit game. I'm interested to find out what my weight is in comparison to the last time I was trying to lose weight? Am I higher or lower. I haven't lost any weight in the last two weeks but the scale hasn't gone up either and I take joy in that.
I want to continue to drink more water and I'm trying out a new product. The ShaToBu, it claims that I will lose 12 % more calories with the movement I do while wearing it. I understand how it works, because I had my first day with it today. I'm not sure how I'll feel a difference, all I can say for now is that I feel sucked in. It's very similar to spanks except where certain parts are thinker and I think that's how the extra calories are burned. Here's a short video if you are interested.
My issues with depression are always going to be there and I need to find other ways to fight them than with food and tears. I think working out would be good, no, I know it would. I've used it in the past, I just wish I had a little sunshine. Isn't 15 days just unfair?
It's also my reason for having such shoddy posts. I just don't feel up to writing.