I feel like a big dork. I wrote to Chili's because I love eating there. When I found out that they have a new fresh tasting menu I wanted to go try it out. I asked them to send me a gift card to use so I could write a review on my blog. They sent me one, and I packed up my whole family to head off to chili's only to find that every Chili's in our area had closed. I mean, the windows are all boarded up. I'm so sad, I was really looking forward to eating at Chili's. I love Chili's so much it would have been very difficult to sway from my favorites to try something new.
I love their Skillet Queso and chips
I love their Chicken Crispers and Seasoned Corn
I love their Chicken Salad Options
I could go on and on with what I already love there, the new items are supposed to be lighter and fresh. So I really envy all of you who still have one close by. I am so hungry after writing this post. MMMM, Chilis!
Enter to win:
A gift card to Chilis
Enter daily at:
"Shout Out to Eat Out". This contest is centered around telling Chili's why you don't want to cook tonight. You have to upload a video telling Chili's why you don't want to cook. It doesn't have to be long, just 10 to 30 seconds, that's all.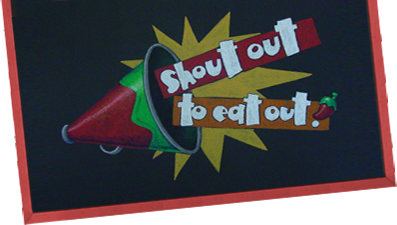 And
I have my 50.00 Gift Card to Giveaway to One Lucky Reader
To Enter:
Visit Chili's on-line and tell me what you would try?
Extra Entries:
Enter the "Shout Out to Eat Out" giveaway (5 extra entries)
Follow Chili's on Twitter
Hit the RT button at the top right hand corner of this post or Tweet
Chili's 50.00 GC Giveaway #giveaway #contest http://bit.ly/d2Qzju
Use any of the share options below, digg, stumble…2 entries each
The contest will run until June 7th 11:59 pm Pacific. All rules can be found under giveaway rules.