If you go around visiting blogs like I do, you may have seen that different sites are having mega giveaways this month and next month. Well, Have you noticed my cute little button on the right for MomDot?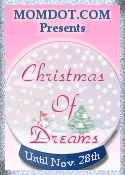 November is the month to enter enter enter.
You can find Tons of information Here and Here
You can even get a pre-entry by posting a post like this one. It is so easy to enter.
SO many contests.
If you can't wait until then:
You can find a list of all the current contests for tons of blogs out there by visiting My Precious Pennies